Today, although a bit late, I am going to join
'The Homeschool Post
' and post about where I home school Sean and which is my favourite place.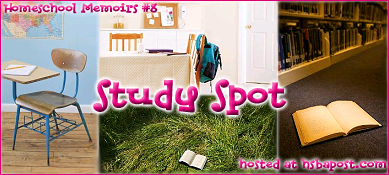 As you may know, I home school my 10 year old son. Sometimes I also school Dylan who is the same age. We have a class room here in my home but we also like getting out and about.
Some people don't like the idea of a class room but I decided to have one for lots of different reasons. I can keep everything to do with schooling in one room and when the regular work is done, its out of sight and out of mind. I think this is good for both me and Seán. Also, I sometimes help neighbouring kids with their homework so it's good to have the space for them to work. (desks) I like my house to be tidy. It's very small and when things are all over the place it looks terrible and drives me nuts so I am not keen to have school books all over the kitchen table/sitting room!
So, here are a few pictures of how Seán and I do our thing!
Click on the speech bubble and you will be able to find out what the photos are about...
Here are some photos of other blogger's and where they school their kids... enjoy!
I liked
Tifanny's
black board in her class room...
Sometimes
Being Mrs Momma
home schools out side on their picnic blanket...
Daddy's Chicks
room looks sooooo tidy...
Flakey Friends
are very crafty....
Paula's girl from
A Large Room
, prefers playing (of a different kind!) out doors...
Monica's
young ones look very comfy!
Principled Discoveries
wins my vote for 'most interesting and fun photo'
Sadie's
son has found a place of his own...
Rhoda
seems to love having maps in her room...
Learning Along The Way
gets my 'cute' vote
One of
Lori's
girls wins the best 'uniform' vote from me!
Heather
has my vote for the 'best bed' photo... Busy woman!